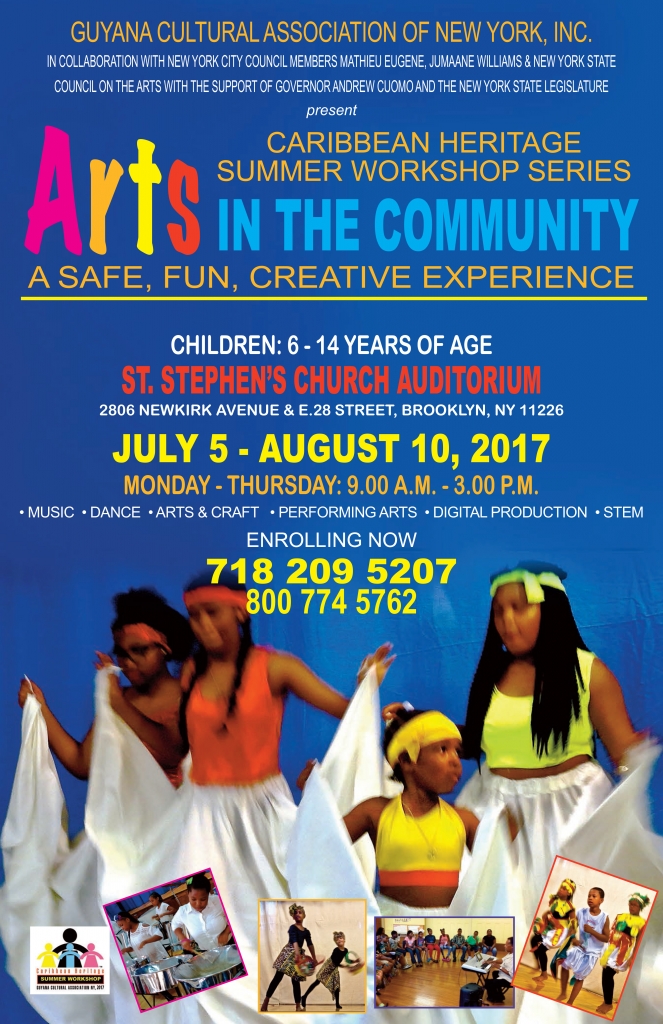 THE GCA CARIBBEAN HERITAGE

SUMMER WORKSHOP SERIES
This comprehensive series of master classes follow the mission of Guyana Cultural Association of New York, Inc. Its curriculum is based on the dedication of this organization and its offshoot, Guyana Folk Festival, to preserve, promote and propagate the rich cultural heritage and folklore of Guyana.
Although the focus is the multiethnic culture of Guyana, this series explores any and all connections among the various territories of the Caribbean region and the Diaspora.
The Caribbean Heriatage Summer Workshop Series is hosted by Guyana Cultural Association of New York, Inc. and is supported by New York City Council Members Mathieu Eugene and Jumaane Williams, Materials for the Arts, Community Groups and the NYC Dept. of Children and Youth.
All workshops take place in the auditorium of St. Stephen's Church Auditorium. Workshops are led by qualified instructors who are experts in their respective fields.
Workshop Director, Consulting
WORKSHOPS
POETRY & PROSE WORKSHOP:
In this reading and writing session students will investigate their own heritage and culture as they answer the questions: What is your name? Who are you? How do you describe your neighborhood? Responses use both prose and poetry.
Storytelling: Students will be instructed in the art of telling the story. In some case students will use their efforts from the session on prose and poetry to develop the expression of the narrative.
MEDIA COMMUNICATION:
This workshop emphasizes the use of the camera and of print to document the process of investigating participants' heritage during this series. Activity is spread through the series.
PUBLISHING WORKSHOP:
In this workshop students will be given basic instruction in the steps of publishing. The records produced used during previous sessions will form a resource for this documentation.
DANCE WORKSHOP:
In this workshop students will be introduced to basic steps and forms of the dance. Concentration and practice will be on the style of the Caribbean and the Diaspora.
ART WORKSHOP: Including Mask Making
This session will comprise of an exhibition of current art forms and the use by students of use different media.
MUSIC:
Drumming: This hands on session will emphasize the art of drumming
Music Literacy: Music/Singing – Basic Musical notation – voice control – and steps in piano playing.
Steel Pan: This session will introduce students to the history and dynamics of the steel pan. Students will be encouraged to learn simple tunes.
Song: The music art of the folksong: Students will learn songs relative to the Caribbean.
TOYS/KITES/GAMES:
LITERACY:
Each workshop has a reading-writing component in addition to practice.
AUTHOR VISITS:
LATE PICK-UP & EARLY DROP OFF:
Separate fee based arrangements at a local child care service may be made for those campers arriving early and leaving late.
MATERIALS:
Each student will be provided with all materials for workshops and a tee shirt.
AGE GROUP:
The series is aimed at children and youth from 5 to 12 years old.
HEALTH:
There is a qualified nurse available.
FOR INFORMATION & REGISTRATION:
Please contact the Secretariat
Guyana Cultural Association of New York, Inc.
1368 E89 Street, Suite 2
Brooklyn, New York 11236
800 774 5762
Website: guyfolkfest.org
TAKE A LOOK AT SOME PHOTOGRAPHS FROM PREVIOUS YEARS OF OUR GCA HERITAGE CAMP
WE ARE THE KIDS OF GCA YOU KNOW'
WE CAME TO LEARN AND PLAY AND GROW
WE WANT TO BE THE BEST THAT WE CAN BE…..
FROM SINGING SONGS TO PLAYING GAMES
HAVING FUN ALL THROUGH THE DAY
WE WANT TO BE THE BEST THAT WE CAN BE
GCA….GCA!
YES IT'S GCA……GCA
GCA , THE BEST THAT WE CAN BE.
GCA!